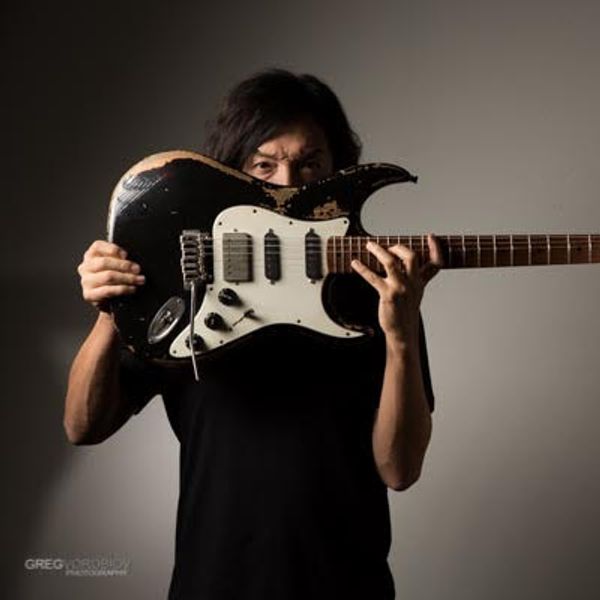 Toshi Yanagi performance includes Cecilia Noel & Wild Clams' German and Cuban tour, various international tours such as Sovory's U.S. and Canadian tour, including the opening act for Sheryl Crow's European tour and for Bryan Adams' Italian tour(*3), and participated in numerous recordings.  
Toshi has made appearances in a national network TV show VIBE,  a privileged weekly music program produced by Quincy Jones, featuring guest stars including Herbie Hancock, Tower Of Power, Earth, Wind & Fire and James Brown.
Toshi has participated in a number of world-class artist tours from 1998 including Taylor Dayne's U.S. tour and Men At Work's U.S. & Canadian tour. As an in-house guitarist, Toshi appeared in national network TV shows including NBC's "The Martin Short Show" and ABC's "The Wayne Brady Show". As a session guitarist, he played on "Today Show" and "The Tonight Show" with Tony Braxton.
Since 2001, Toshi is aggressively expanding his way into various projects, such as a Grammy-winning Latin rock band La Ley's album "MTV Unplugged", Microsoft Xbox game "Forza Motorsport", and a soundtrack album of "Two For The Money", an Universal Pictures film starring Al Pacino.  
In 2004, Toshi Yanagi was named by Eikichi Yazawa, who is known to select topnotch international musicians, to join his "Fifty Five Way" Japan tour. Returning home after twenty years, this became his first opportunity to perform and tour professionally in Japan, which included the big Budokan show. the following year, and was called back again to join his next club tour "The Live House Roots". In 2006, a crowd of forty-thousand cheered for Toshi who played with Yazawa at Rock In Japan Festival held in Tsukuba, Ibaragi.  
Today, Toshi is the in-house band member of the ABC's "Jimmy Kimmel Live", also playing one of the characters in the show.