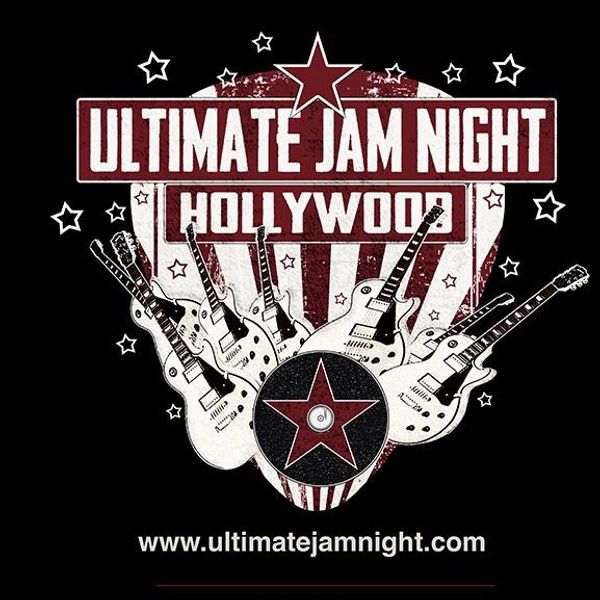 ULTIMATE JAM NIGHT
HOLLYWOOD
Every Tuesday Night - From 8:00 to 12:30 come enjoy Rock-n-Roll's finest musicians as they JAM in the heart of the Sunset Strip! Headed up by Chuck Wright (QUIET RIOT) and Paulie Z (THE SWEET), they bring you the BEST LIVE JAM in Hollywood with 45 to 70 of the most seasoned musicians from your favorite bands, performing a variety of genre's of Rock, Funk, Pop and Heavy Metal! This is a FREE show!
A unique community-oriented live music now in its 4th year at the historic Whisky A Go Go
The Show now in its 4th year of residency, has also been performed at NAMM, in NYC, and Nashville. 
Combines the talent of up to 70 world-class artists that tackle a unique "theme" each week. 
The program packs 500 attendees into the venue and is live stream broadcast world-wide via RYouLive.
Created by multi-platinum album selling bassist Chuck Wright of the band Quiet Riot, together with a team of experienced live music professionals, the show features a house band that includes Edgar Winter/ Sweet guitarist Mitch Perry, Survivor's Walter Ino, and drummers  Joe Travers (Zappa, and Joe Satriani), and Chris Ralles ( Pat Benatar). The show is hosted by Paulie Z., frontman from legendary "Glam" band The Sweet, and former television personality from the hit show ZRock. 
With over 200 shows to date, the program has generated a world-wide following in excess of 2.5 million people, hosted over 2,000 major performers, and entertained thousands live. 
The program centers on serving the community with rotating features and unique unrehearsed theme experiences. We have even raised monies for key causes like the Pulse nightclub victims and Hurricane Harvey victims. 
The show is broadcast worldwide over RYouLive.com and their app, with a multi-camera pro-quality live switch along with interviews (clips available for review). 
The program has received extensive media coverage in major entertainment and music media, as well as all local Los Angeles media.
3.5 hour program (9 pm – 12:30 PDT), consisting of an opening band (depicted: Betty Blowtorch) with a 40 minute set, change over, then a 2.5 hour well-coordinated rotating cast of top-flight touring and session professionals, performing original and cover songs, along with stage speeches, and video clips.  The show often includes Burlesque, performance art segments, brief comedy bits, walk-around characters, prize giveaways, and charitable tie-ins.